South West Ambulance has the longest waits in the country for people to get through to the operator. It takes almost a minute on average for ambulance control to answer 999 calls compared with just five seconds for the West Midlands service.
"He just looked at me and he just passed away before they could even get to him," 41-year-old Claire Iles said.
"I rang about 4pm and said he has gone grey, and I said if you don't come now he is going to die, and it was still 20 minutes before the ambulance turned up."
She was at home with her parents in Yate, near Bristol, when her father, Steve, 63, fell ill.
Between her and mother Jean, 71, they called 999 six times – two of those calls were unanswered for 10 minutes.
It took 11 hours for a South West Ambulance crew to arrive, but Jean said by that time it was too late.
Mr Iles died at 17:10 GMT on 19 March from a strangulated hernia that cut off the blood supply to his heart.
The first call to 999 was made at 05:37.
Claire said: "What we know is what he was bringing up was blood, internal bleeding.
"We stressed this to the call handler every time we called and they said 'does it look like dark soil?'
"And we said 'yes'. So they knew what he was bringing up was bleeding internally but even that, the seriousness of it, we just couldn't seem to get over to them."
The trust has apologised for the distress and anxiety caused but said it remained under "enormous pressure".
The latest figures show South West Ambulance Trust had the longest waits to get through to operators in an emergency. It blamed patient handovers from ambulances at hospital for the problems.
In September it took on average 56 seconds – far higher than many other services like East Midlands which took only six seconds.
A spokesperson for the South Western Ambulance Service NHS Foundation Trust (SWASFT) said: "We are sorry that we were unable to provide a timely response to Mr Iles and we would again like to offer our sincere condolences to his family and loved ones.
"Our ambulance clinicians strive every day to give their best to patients, but our performance has not returned to pre-pandemic levels, partly due to handover delays at emergency departments."
The trust said it was working with its partners in the NHS and social care to improve the service that patients receive.
Charley Fiddes, from Chipping Sodbury, near Bristol, was first on the scene of a fatal motorbike crash in Westerleigh in August.
It took three minutes and two seconds for her to get through to 999.
She said she was overtaken by a motorcycle that was involved in a head-on collision with a car coming from the opposite direction.
Ms Fiddes said it was very distressing to have a delay to her call being answered: "Because where he lost control of the bike he put his leg down and unfortunately ended up losing a limb.
"I called 999, asked for ambulance, and was just then put on hold but they just keep saying stay on the phone if it's an emergency," she said.
"As you are in shock you just want someone to answer the phone as you just don't know what to do."
The man, aged in his 50s, died despite an ambulance arriving at the scene shortly after Ms Fiddes got through to an emergency call handler.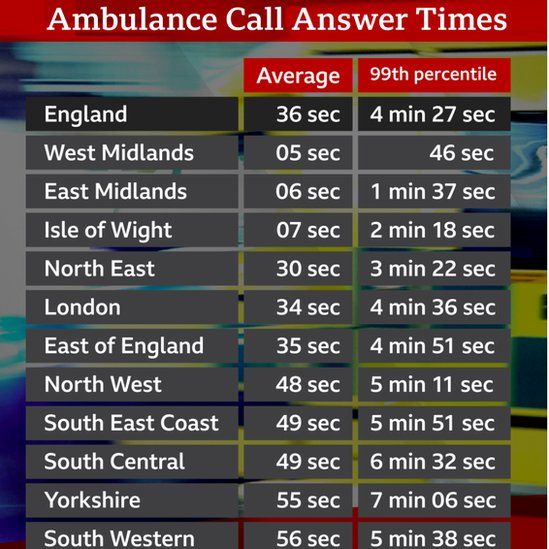 South Western Ambulance Service (SWAST) apologised and said that delays to its response times mean that about a third of all the 999 calls that are made are now repeat calls.
"Calls from patients, or those looking after them, who want to know when a delayed ambulance will arrive, to update us on the deterioration of the patient or to say they no longer need an ambulance. This impacts our call answering pickup time.
"We are responding to this by recruiting more call handlers.
"We have already increased the number of whole time equivalent (WTE) staff from 160 to 195 and intend to increase the number of call handlers to around 250, albeit in a very tight jobs market."
Source : https://www.bbc.co.uk/news/uk-england-bristol-63477269